Hacksaw Machines offered by us are used for metal cutting ranging from transportable model to giant size machine. Owing to smooth & speedy functioning abilities, these hacksaw machines operations spontaneously for aiding the worker in consistently carrying his work with ultimate competence.

Features:

Bed: The Bed is Available as a Single Piece Casting. It has Wide Rigid Casting for the Collection of Coolant, Swarf and also houses the V-Belt Device.
Saw Frame: The Rigid Saw Frame Ensures a Square & Parallel Cut & The Cut takes place on the Backward pull stroke. To Prevent the wear of the Blade, It is Hydraulically lifted out of Contact with Work Place on the Forward Stroke Up.
The Drive: The Drive is Attached through V-Pulleys with Provision to Adjust the Complete Tension of the V-Belts. The Shafts are Fitted with Ball Bearing and Taper Roller Bearing to Eliminate friction.
Speed: Specific Speeds has been Provided for Different Kind of Metals in order to make it suitable. High Speed for Metals like Mild Steel, Brass, Copper etc. and Low Speed for Cast iron.
Feed Saw: Two Levers are Provided to Hydraulically Control the Feed Saw at the Dash Spot. One Control the rate of Feed and the Other Enables the bow Slide to be Raised or Lowered and after the Completion of the Cut, the Motor Gets Automatically Switched Off.
Vice: The Vice is Rigid Construction. It has Two Jaws, One Jaw remains Fixed and the other is Adjusted Accordingly to the Size of Material to be Cut.
Coolant: A Coolant Tank is Enclosed within the Base of Machines with Constant Speed to Supply Continuous cooling to the Saw Blade.
Electricals: A Push Button Starter is fitted with an adjustable trip mechanism that helps in stopping the machine soon when the blade is clear from the work at extra cost.



Applications:

Engineering Industry
Construction Industry





Ask for Price
Technical Specifications
Model
M-175
M-200
M-250
M-300
M-350
M-400
M-500
M-600
Cap. Of Round Bar
175
200
250
300
350
400
500
600
Cap of Square Bar
125
150
200
250
275
325
350
425
Stroke
135
135
140
140
140
135
150
150
Stroke per min. (approx)
100-120
100-120
85-100
85-100
85-100
70-85
70-85
70-85
Blade size
12"-14"
14"-16"
16"-18"
18"-20"
20"-22"
22"-24"
24"-32"
30"-36"
Electric Motor
1H.P.
1H.P.
2H.P.
2H.P.
2H.P.
3H.P.
5H.P.
5H.P.
RPM of Motor
1440
1440
1440
1440
1440
1440
960
960
Length
1000
1000
1150
1250
1300
1500
1650
1750
Width
600
600
625
650
650
675
700
725
Height
800
800
1000
1000
1100
1200
1300
1400
Weight (approx)
325Kg.
335Kg.
450Kg.
550Kg.
650Kg.
750Kg.
1100Kg.
1200Kg.
Weight with Packing
400Kg.
450Kg.
550Kg.
650Kg.
775Kg.
900Kg.
1300Kg.
1400Kg.
V-Belts Required
4Pcs.
4Pcs.
4Pcs.
4Pcs.
4Pcs.
5Pcs.
6Pcs.
6Pcs.


Standard Accessories
Mechanical Coolant Pump, Motor Pulley, Starter Plate, Length Guage Belts Guards, Flexible Coolant Pipe.

Extra Accessories
V-belts, Blade, Hydraulic Oil, Bar Stand, Motor, Starter, Electrical Wiring, Three Speed Gear Box.

Note
All Specifications are subject to change without prior notice.


Horizontal Swing Type Bandsaw
| | |
| --- | --- |
| Horizontal Swing Type Bandsaw is manufactured by us in integral front and rear bed design. The entire assortment of these machines has large cross section of swing frame and ensures high speed productivity. All these horizontal swing type bandsaw machines are widely demanded in engineering industries for various cutting applications. | Ask for Price |
Specifications
200mm
250mm
300mm
400mm
Cutting Cap
Round 200mm
Round 250mm
Round 300mm
Round 400mm
Square 170mm
Square 220mm
Square 270mm
Square 370mm
Saw Blade
3000 x 27 x 0.9
3760 x 27 x 0.9
3760 x 27 x 0.9
4570 x 34 x 1.1
Blade Tension
Mechanical
Mechanical
Mechanical
Mechanical
Motors
Saw Blade motor
1.H.P. 960 rpm
1.H.P. 960 rpm
1.5H.P. 960 rpm
2.H.P. 960 rpm
Hydraulic Motor
1.H.P. 1440 rpm
1.H.P. 1440 rpm
1.H.P. 1440 rpm
1.H.P. 1440 rpm
Dimensions (L x W x H)
1600 x 370 x 1200
1800 x 500 x 1400
1800 x 500 x 1500
2000 x 600 x 1800
Double Column Bandsaw Machine
Our manufactured Double Column Bandsaw Machine is equipped with rigid chrome plated double column, separate electrical panel, infinitely variable feed with flow control valves and power driven wire brush. The range of bandsaw machine is hydraulically operated dual clamping system.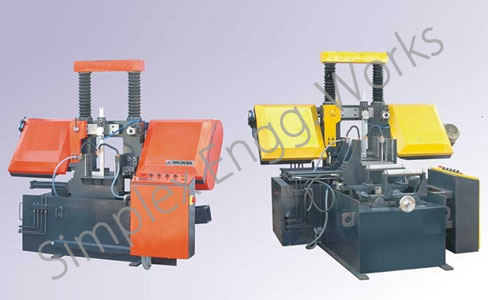 Ask for Price
Technical Specifications
Model
210
300
525
650
800
1000
1250
1500
Cutting Cap. In mm Round Square
210 × 210
300 × 300
525 × 525
650 × 650
800 × 800
1000 × 1000
1250 × 1250
1500 × 1500
Blade Size (in mm)
3505 × 27
4100 × 34
5800 × 41
8000 × 67
8800 × 67
12300 × 67 or 80
13100 × 67 or 80
16100 × 80
Saw Motor (in mm)
3
5
10
15
20
20
25
25 or 30
Hyd. Motors
1 HP
1.5 HP
2 HP
2 HP
2 HP
2 HP
3 HP
3 HP
Coolant Motors
0.16
0.16
0.25
0.25
0.25
0.25
0.25
0.25
Chip Conveyor Motor HP
0.25
0.25
0.25
0.25
0.25
0.33
0.33
0.33
Over Dimensions For DBCSA Model
Length
1900
2600
3200
4100
4100
6200
6700
7500
Width
950
1200
1250
1800
1850
2700
3000
3000
Height
1450
1650
1700
2400
2400
3500
4000
4000
Cutting Speed (m/min)
20 to 100 mtr/min in steps std. Supply suitable for cutting all types metals ranging of hardness BHN 70 to 350
Power Supply
440 V + 10% 50 Hz. 3 Phase, AC Supply Control Circuit with 220 V Standard Supply
ACCURACY & OUT PHASE
100mm 0 ± 0.1mm